Interested in cultivating a love of science in your kids? One or more of these monthly science kits are sure to spark his or her interest in STEM! 
I am a sucker for good educational subscription boxes for kids. I've tried out several of them with my preschool and early grade school aged children. We are homeschoolers, so fun things, crafty, hands-on things, which I am no good at, are an awesome supplement to their learning.
I am not very science minded. I always did okay in my science classes, but I never loved any science, by and large. As such, we haven't done a lot of science experiments and learning in our homeschool, which is why I wanted to find some great monthly science kits and share them with you!
Best Monthly Science Kits
I hope you'll enjoy searching through these science in a box kits! I tried to include a bit of what is included in each one, what age ranges they are best suited for, and of course how much they'll cost (and I tried to find any promo code or discount codes I could!).
I will say these make for awesome gifts, so be sure to pass this along to a parent or grandparent who may be looking for a non-toy gift to send your child! 
Kiwi Crate
Designed for ages 5-8, the Kiwi Crate features Science, Art & More in each box. We've received a few of these over the last few years and enjoy the extra learning materials that provided in addition to the craft provided.
Monthly Subscriptions can be as low as $16.95/month (if paying for a yearly subscription) or just $19.95/monthly. You can cancel anytime. And they can easily be gifted!
Get Early Access to their Black Friday Sale and Get 60% off your first month of any KiwiCo product!
Tinker Crates
Great for kids ages 9-16+ who are into science engineering, each monthly Tinker Crate comes with all the materials and instructions required to make an awesome STEM project, along with additional science experiments and activities and video tutorials.
Monthly Subscriptions can be as low as $16.95/month (if paying for a yearly subscription) or just $19.95/monthly. You can cancel anytime. And they can easily be gifted!
Get Early Access to their Black Friday Sale and Get 60% off your first month of any KiwiCo product!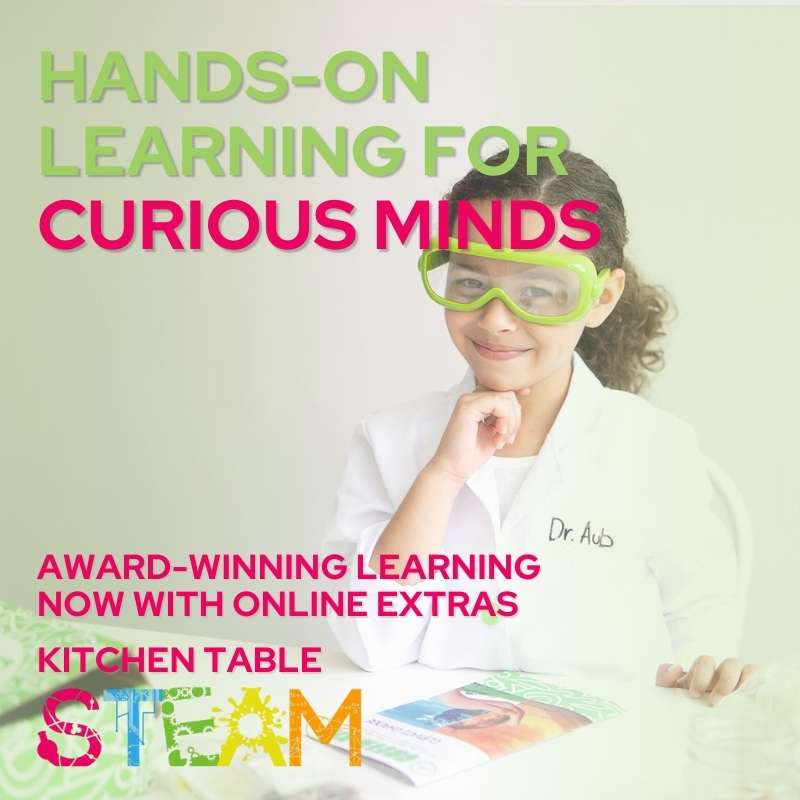 Green Kid Crafts
We've received six or more Green Kid Craft boxes in the mail over the years. They are currently my favorite kids' subscription box! Very fun and great for my 5 (now 6) year olds, especially to use in our homeschool. Love them! See my full Green Kid Crafts review of our first two boxes.
Green Kid Crafts is an award-winning STEAM activity box subscription service that provides all the hands-on materials needed to inspire creative and educational fun. Plus, they also offer tons of single boxes with science themes like Outer Space, Dinosaurs, Rainforest, Volcanoes, and more.
Each box contains 4-6 award-winning STEAM kits and bonus extension activities. Their Discovery Box subscription projects are designed for ages 5-10+ and start at just $17.95/month for a yearly subscription, or only $19.95 monthly.
Take $20 off ANY 3, 6, or 12-month Green Kid Crafts subscription including junior, sibling and literary options! Use coupon code MERRY20 to get the $20 OFF. This code is good until midnight Monday, December 11, 2017 or until supplies last. Subscriptions ordered before midnight on the 17th are guaranteed Christmas delivery (U.S. only).
To view their subscription options and Discovery Boxes and Kits, go here to start saving!
Or use discount code FAGAN50 and get 50% off the first month of a new subscription!
Steve Spangler Science Club
The Spangler Science Club features the coolest hands-on science experiments and inquiry-based activities designed by Steve Spangler and his award-winning team of science educators. Each month you'll receive a box filled with the science tools and resources needed to conduct experiments and take-it-further challenges that combine the perfect mix of critical thinking, tinkering and fun. It's the perfect science spark for kids in grades K-6, or ages 7-14, and each month has a new theme like kitchen chemistry, the power of air, science magic, and bubbling potions.
Subscriptions start at just $9.99 a month (plus $5 shipping) for 1 STEM experience, $19.99 (free shipping) for up to 5 STEM experiences each month, or $29.99/month (with free shipping) for up to 10 STEM experiences each month. Join the club today! 
Use code SPANGLER16AF to get 40% your first STEM Deluxe box or use code SPANGLERAF16 to get 10% off Steve Spangler Science Retail Products.
BitsBox
A subscription box that teaches kids to code! Bitsbox provides kids ages 7-11 something new and exciting to build, or code, on a regular basis. Each month your child will receive a dozen app projects printed in books, cards, and on toys. The coding projects pair with an online coding environment and result in real apps that work on real devices.
The subscriptions can be delivered via monthly download or in the mail. Subscriptions start at $20 for the digital book, $25 for the box (with free shipping) and as little as $30/month for the Deluxe Bitsbox. Sign up for Bitsbox: an educational subscription box that will teach your kid to code!
Groovy Lab in a Box
Groovy Lab in a Box subscription service provides young STEMists with fun, hands-on projects and an engineering design challenge – all focused on that month's STEM topic. All STEMists will receive materials and a Lab Notebook, where they can read about that month's topic, perform investigation activities and document their findings. They will investigate, brainstorm, plan, build, test and redesign their own creations. STEMists also receive access to a special "Beyond…in a Box" online learning portal. It's usually best for kids ages 8+.
Cost is $24.95 – $29.95 depending on how long of a subscription you want. Shipping is free. If you order a 12 Month Subscription, you end up getting 2 boxes for FREE, but you have to pay upfront.
Right now, Groovy Lab in a Box is offering their Groovy Holiday Bundles to make your holiday shopping easier. With the Groovy Holiday Bundles, you will get a single box delivered to you in time for the holidays, with continued grooviness into 2018 with one of their subscription plans. Non-recurring prepaid plans are available in 3-, 6- and 12-month plans, and are billed at the time of order. At the end of the subscription period, these plans do not renew. These Groovy Holiday Bundles will help you save time and money because each plan is bundled with a unique single box at 20% off plus FREE shipping!
Totally groovy, right? If this sounds like the perfect gift for your child, you need to order today! All orders must be received by Sunday, December 17 to ensure holiday delivery.  Sign up HERE. 
The Young Scientists Club
Each month your child can explore science with Ms. Frizzle or Clifford the Big Red Dog with a monthly subscription box from The Magic School Bus Science Club Kit (ages 5+), the Clifford the Big Red Dog Science Club Kit (Ages 3+), The Young Scientist Club (age 5-12).
Every kit comes with a colorful themed manual with a supply bag to do the experiments, plus a monthly e-newsletter, online clubhouse for further exploration, and a certificate of completion. They cover a wide range of topics from chemistry to anthropology. Some adventures include building a volcano, growing crystals, and learning how to track animals.
The Magic School Bus Club kits are $19.99 per month which includes the shipping and handling. Clifford the Big Red Dog Science Club kits are $33.00/month and include the shipping and handling. The Young Scientists Club kits are $11.99 + $4.95 shipping. You can do a once-a-month or a twice-a-month subscription for this one.
Right now Educents (a discount site for homeschoolers/educators) is offering 50% off a Young Scientists Club membership, 50% off a Magic School Bus Science Club Membership, and $100 off a Clifford the Big Red Dog Science Club Kit! 
However, you can always choose to buy individual kits from Amazon as well. Here are their Young Scientists Kits, Clifford the Big Red Dog Science Kits, and The Magic School Bus Science Kits.
Genius Box
Explore a new STEM topic with 3+ hands-on activities delivered each month from Genius Box. Each box contains a narrative story and activity cards to explain topic and activities in a fun, engaging way. Best suited for kids ages 8-11, all the materials are included to foster curiosity and a passion for science, technology, engineering, and math in a fun and engaging way.
This monthly science kit starts at $23/month (with free shipping) for 6-month subscriptions paid upfront or up to $25/month (free shipping) for a monthly subscription. Plus, it's easy to order as a gift and for every Genius Box purchased, they donate $1 to ManyMentors.
Club SciKidz
Club SciKidz introduces children to the mysteries of science and technology through terrific projects and experiments. Each box contains a variety of career-based activities such as: Veterinary Medicine, Robotics, Food Science, Programming, and More.
These monthly science kits contain challenging science and technology experiments, creative engineering projects, nature crafts, micro activities and observations, secret formulas, science quotes and riddles, inspiring scientists, an exclusive interactive lab notebook, and a little science fiction and science surprise each month. Plus, they receive real lab equipment so they can start building their own home lab!
Best for kids ages 7-12, a monthly subscription is $29.95 with larger subscriptions available to reduce the monthly cost up to $26.95/month for a yearly subscription when paid upfront in-full. All have free shipping.
Sign up for Club SciKidz today!
Science Unboxed
Science Unboxed is an awesome monthly STEM box for kids ages 6-12. Each box contains an awesome hands-on project that requires kids to really use their critical thinking skills. Children also learn STEM principles from the included instructional booklet and digital content.
A monthly subscription is $29.99/month down to $22.99/month when you pay for a full year. You have to pay shipping as well (roughly $2.99/box).
They also offer a "Level Up" version of Science Unboxed that include even more challenging projects and activities to strengthen STEM skills for the same pricing.
STEM Reads Book Club
STEM Reads is a monthly book box that introduces children (ages 4-8) to different topics in Science, Technology, Engineering, and Math. Each box contains 2+ kid-friendly books (hand-picked by experts), fun, customized learning activities, exclusive author notes, and a related surprise.
Each box is $34.95 for a recurring subscription or  $39.95 for a previous box. Get a box here!
Creation Crate
If you have a 12+ year old child who loves puzzles, LEGO, building things, and wants to learn electronics, Creation Crate is perfect! It teaches anyone how to build electronics with educational projects delivered monthly.
Each science kit is just $29.99+/month and ships worldwide from Canada. Get started with Creation Crate!
No matter what you end up gifting your child in terms of a monthly science kit, I hope they'll enjoy the time tinkering, creating, and exploring and learn a little something along with having a ton of fun!
If you've tried any of the science boxes for kids listed above, I'd love to know what you and your child thought about them in the comments below!
---
If you're looking for more great gift ideas for your kids, be sure to check out the following awesome kid gift guides by clicking the picture below!
Want More Parenting, Penny Pinching, and Simple Living Tips?
Subscribe and get my best advice delivered right to your inbox. As a thank you, you'll receive these three laundry room printables for FREE.