This is a Sponsored post written by me on behalf of White Cloud for SocialSpark. All opinions are 100% mine.
I love my children. And I love letting them explore and grow on their own. But, I don't always love the mess that comes with raising children. I mean seriously, kids are messy! They are messy when they eat meals, messy when they are potty-training, messy when they play at the park, messy when they paint and do crafts.
Some Kid-Tastic Messy Moments:
My children love coloring and doing art, just like their artist Mom, but there have been far too many times when crayons have been used to draw on objects that aren't intended for wax crayons, namely our walls. We now only buy washable crayons, because as awesome as Magic Erasers are, when an entire room is covered in crayon markings, it means hours of scrubbing for me. Besides crayons, we've learned the hard way to only ever use washable paints, and non-residue leaving play-dough and other gooey playthings.
Then there was the time that my kids got hold of Wite-Out and got it all over their (thankfully bare) legs and their bed sheet. And the time they decided they could paint their own finger nails and got bright pink nail polish on the carpet, themselves, and the bathroom door frame. And as far as I know, Wite-Out does not come out of anything.
Then there is the mess that comes when children are sick. The boogers end up all over couches, pillows, and shirts. And the throw up? Well, let's just say I hate dealing with it, and do my best to clean it out of sheets, carpets, cars, and chairs without gagging.
And who can forget the messes that come from potty training? And my girls were causing enormous messes well before official potty training began as one of my daughters was a diaper Houdini (Read my post on HDYDI about ways to keep your child's diaper on). Plus, some diapers, even if fastened correctly, just don't seem to be able to hold in its contents. We've had poop run from toe to head once or twice when a child was teething and had extra runny goodness coming out of their behind.  But, even when the diaper weaning begins, accidents are bound to happen, and they are bound to happen wherever your child so pleases, including the middle of your floor, in closets, on chairs, at Old Navy, and even at church. When it's seriously just too much #2 for a pair of panties to handle (especially when away from home) I ended up tossing those dirty bad boys right in the trash. Bleh!I like to let my kids play outside. But, doing so often means stains: mud stains, grass stains, and perhaps an occasional blood stain. Since toddlers and preschoolers are still working hard on gross motor skills those spills, scrapes, and tumbles happen a lot, leaving clothes and kids marked up.
Then there are messes that come with eating.  Baby foods are such a mess. In fact, feeding infant twins is just mayhem.  Plus, there are the times when my twins have dumped whole boxes of Cheerios on the floor, or my son has grabbed a cup and dumped its juicy sticky contents all over the place. Then there have been bowls of cereal with milk, plates with spaghetti sauce, pieces of pizza, cups of yogurt, and toast with jam on them all spilt on our carpeted dining room floor. (Why apartment complexes must you carpet a dining area?!) I am just thankful for my broom, mop, vacuum and carpet cleaner, in addition to bibs, wash cloths, paper towels, and a washing machine. I also have two preschool-aged helpers around too.  But, oh my word: kids are messy!
Removing the Stains but not the Memories
And while cleaning up floors, tables, walls, and babies isn't usually too big of a deal, stains on clothes can be another thing all together. Clothes can stubbornly hang on to the reminders of its daily adventures. But, I'd prefer to hold onto those reminders, those memories of my children, rather than their clothes!
Enter White Cloud's new line of laundry care products!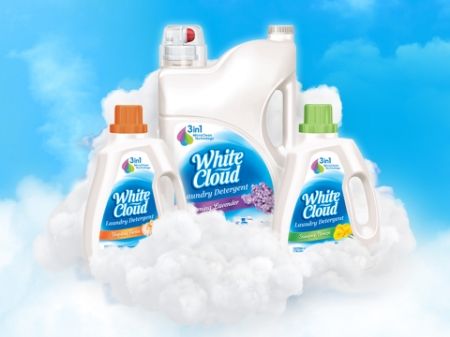 White Cloud is well known for their family of soft and strong Bath Tissue, Facial Tissue and Paper Towels. And now they are excited to invite consumers to discover their new line of Laundry Care products. White Cloud's new campaign is "The Dirtier the Clothes, the Bigger the Memory" because they believe in helping moms preserve memories, without sacrificing their budget or their kids clothes.
See how White Cloud can help you save your budget, and your kid's clothes by checking out their new line of laundry care products, including their new  3-in-1 Micro Clean Technology. Composed of an enzyme-based formula to get out even the toughest stains, the 3-in-1 Micro Clean Technology contains a pre-treater, stain remover and color booster all in one. Plus, it's available in three scents – Blooming Lavender, Summer Breeze, and Tropical Fiesta – allowing mom to find a scent perfect for her family.
Like White Cloud on Facebook to get a $1 or $2 off coupon to use at Wal-mart to try out White Cloud's laundry care line for yourself, available in either liquid or powder form. Use the Store Locator to find a Wal-Mart near you.
Fans of White Cloud on Facebook can get a $2 off coupon if they share the coupon on the social channel of their choice (Facebook, Twitter, or Pinterest), and a $1 off coupon is available to all White Cloud fans. One coupon is available per customer. Follow White Cloud on Pinterest and Follow White Cloud on Twitter too!
Limit one coupon per purchase on product specified. No cash back if coupon value is higher than purchase price. Void if reproduced, transferred, used to purchase products for resale or where prohibited/regulated by law. Not valid on trial sizes. Consumer pays sales tax. Redeemable at participating retail stores. Valid only in the U.S.
So while stains on my kids' clothes can be a nightmare to get rid of sometimes, I am thankful that it means a special kid-tastic experience accompanied it. Because, even those nasty memories of potty training and sickness, have created the memories of motherhood and childhood, and I am so grateful for them. I embrace the fact that my kids are messy, and look forward to our next messy adventure.
Please tell me about your favorite, messiest, or even grossiest memory of parenting your child. What did you love about it, once you could look back on it?