My affiliate links are used in this post for the Citrus Lane Monthly Subscription Boxes and Amazon links. I hope you enjoy my review!
As a non-crafty mother who is homeschooling preschoolers, I am often looking for a fun, easy, and affordable way to have my kids create and explore and learn. While I readily supply my kids with paper, pens, pencils, various paints, crayons, and markers, when it comes to 3-D objects or glue or googly eyes, I'm no so supplied. That's why I was excited to try out Citrus Lane. Review my reviews of my three-month membership to see if it may be right for your family!
Citrus Lane is a monthly subscription box for kids, much akin to the Kiwi Crate that I reviewed last year. Citrus Lane is "Fresh Finds. Parent Tips. Delivered Monthly." Basically, in each box you receive a few things. First you have some sort of new, probably organic, snack for kids. a book, a craft, and a puzzle. We ended up receiving a box for three months! I will share what we got in each one so that you can get an idea of what to expect in a Citrus Lane box for your kids, and what type of quality the items are, and ultimately, if I think it would be worth looking into for your family.
Citrus Lane Review September 2014 Box
In September of 2014's box we received the book "The Little Red Hen" (one of my favorites) with an accompanying CD of the story being read by Debra Messing ($8.63). Then we received a Creativity Can – Critters from Creativity for Kids (~$8.66). There were All-Natural Somersaults cinnamon crunch nuggets baked with sunflower seeds and toasted grains (~$1.76). And lastly there was a 48 piece Vehicle puzzle from Crocodile Creek that came in a cardboard box in the shape of an ice cream truck($9.99). In total, four items that retail for about $29. 
This box was actually pretty cool. The treats were good, though gone instantly, and barely made it around myself and three kids. The book was read, and the CD played. And the Creativity Can was played with, but said creations weren't made in such a way to really last longer than the day we spent making them, although my kids greatly enjoyed it. The puzzle is of a good, thick quality, although the pieces a bit too interchangeable, making it harder than it needs to be. The box the puzzle came in really seemed to be the big winner. My son loved playing with it, and still does from time to time, even if the end of the box was ripped off on about day two of owning it (even though it was cool and had Velcro tabs to keep it shut tight). The vehicle puzzle box lives on, as does the puzzle. So, out of the 4 items, one was very fun to create with for a day, two we will keep for a long time, and one was gone in 10 seconds. Quality was very good on the items we received.
Citrus Lane Review October 2014 Box
The second box we received was in October 2014. In this pink box (for Breast Cancer Awareness) the box had punch out Pink ribbon, and pink mustaches. Inside the box were a snack – Annie's Homegrown Organic Cheddar Snack Mix; Maracas from Hohner Kids ($7), Large cardboard dominoes from Janod ($21.24); and a pink lightning super hero cape from Litter Adventures ($16.99). Four items that retail for more than $45. 
My daughters love the cape. It's attached with Velcro around the neck, and the company boasts that their play and dress up gear are "comfortable, washable, guaranteed." However, my daughter complained that the Velcro scratched their neck. Otherwise, they were excited, and just wished there were two! The snack was good and gone in about one minute. The maracas are, well, maracas. And my kids have played with the dominoes on numerous occasions. My biggest problem with the dominoes though is that it didn't come with real instructions. I don't really remember how to play dominoes, and all the little rules to it, and they had nothing, other than some very basic instructions printed in numerous languages in small font. Not so helpful. So we wing it a bit, and usually someone wins without having to draw a single tile. Again, the items are sturdy and of good quality. This time three of the items have lasted a long time, even if not necessarily played with all the time (in part because I'm pretty sure the girls lost the cape somewhere outside or something).
Citrus Lane Review November 2014 Box
In our November 2014 Citrus Lane box we received Faber Castell painting products – a watercolor pad ($7.35), and a 12 color, interlocking watercolor paint set ($14.99). We also received a 36 piece The Animal Boogie jigsaw puzzle from Barefoot Books ($12.99), and a BabyGranics cold relief chest rub ($8.69). So instead of a snack this month, we received the baby care item. Four items retailing at about $44.
This box was pretty awesome (despite my horrible, late-at-night picture! So sorry!). As my kids love to paint, getting more paints, and actual water color paper, it was pretty sweet (and my artist self knows that Faber-Castell is a pretty good brand). The puzzle is cute, and it's been kept and done a few times. Plus, I also used the vapor rub on my son and daughter before bed when they were congested. It seemed to help, and was mess free! Win 4/4 for this box!
Is a Citrus Lane Subscription Worth It?
Now, you want to know my honest opinion, right? I tried them out for three months in a row, but then stopped getting them. So what do I think? Would I recommend a Citrus Lane monthly subscription membership?
Well, let's talk about prices for a minute, so you can know for sure.
The amount you will pay will be dependent on the length of subscription you want. If you want to do a single month, or do a month-to-month subscription, it is $29 a month, every month. For a 3-month membership, it only costs $27 a month, and for a 6-Month membership only $24 a month. However, on your first month's subscription, you can save 40% off the cost using code TAKE40 at checkout. This means for the first box you could pay $17.40, $16.20, or only $14.40, depending on what length subscription you initially choose.

You do have to pay tax, but shipping is always free, and you can cancel at anytime, although all plans automatically renew.
So, now that you know that a monthly subscription to Citrus Lane costs $24-29 a month plus tax, you have to figure out if it is worth it to you and your family. If you paid attention above, you will notice that I linked to the products I received on Amazon (or other places if not available on Amazon) and gave the retail price. The first month's goodies were only worth the cost of the box – $29. However, the second and the third box were valued at about $45 each, more than your subscription.
Obviously, the items in the box change every month, and there is no guarantee you will love what you receive, or find them useful or long-lasting for your family or kids. I personally don't know if I love gambling with $30 a month on things I may or may not like. The first box I received I didn't love, but, each box got better each time, and apparently the retail value did as well. So, from a money perspective, it seems alright.
The Benefits of a Citrus Lane Membership
Each new box opens your eyes to new companies, name brands, and products that you may have never heard of before, never seen, or never used, and then lets you try them out without any in-store or online delegation or deliberation. Plus, they often include coupons or coupon codes so you can buy or order more of a product or brand that you discover you actually really like.
The great thing is that each of the items are high quality products, and not cheap and flimsy (unlike that Kiwi Crate box). They really seem to carefully choose what will go in each box. The snack are all healthy, organic, and natural, as well as their baby care products, which means you feel good giving them to your kids.
And lastly, there is the awesomeness that is your child receiving mail that is full of fun new activities, books, snacks, toys, and products designed just for them. And you don't have to leave your house or shop around to get them. And that's pretty darn sweet.
Oh, and I forgot the mention this important detail – they customize the box to your child's age. I believe they have baby, toddler, and preschool categories, so your child will get age-appropriate products that they will (hopefully) like!
So, go ahead and give them a go for at least one month – that's my ultimate suggestion! Chances are for the $14-17 you will pay after using that 40% off code, you will have something that you will keep and use for quite a while, and it will be more than worth that little amount. Just be sure to Save 40% on your first box with code TAKE40.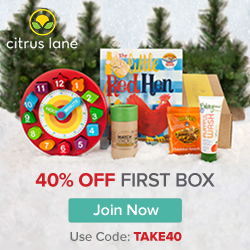 Have you ever tried out Citrus Lane before? What did you think? Or do you have a favorite monthly subscription box for kids?