I've read a few parenting books over the last few years.  I actually really enjoy reading different people's approaches to difficult parenting problems.  So, when I had the chance the review this last book I was really excited.  The book is called The Christian Parenting Handbook: 50 Heart-Based Strategies for All the Stages of Your Child's Life by Dr. Scott Turansky and Joanne Miller, R.N. *Affiliate links are used in this post. Thank you!*
I was excited because as a Christian mother I definitely want to make sure that how I parent is inline with how Christ would want me to parent (as opposed to how the world thinks it's best to parent).
Right from the beginning of this book, I felt like it was different from some of the other books I've read.  The focus of this book is not on just correcting behavior, or just on managing a child's specific issue, or how to just motivate your child to do the right thing.  The focus of this book is on the long-term growth of your child, specifically in regards to your child's heart and character.  I loved that!  Because that is indeed how I should think about raising my children.  I shouldn't think about how to just fix problems, but how to help my child mature.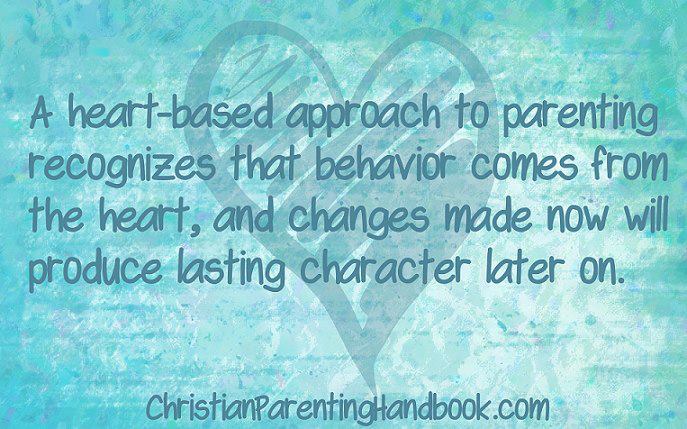 The problem with many parenting books is that they don't help you think long-term or big picture enough.  Sure, you can use many popular parenting techniques to get your kids to do what you want, but if you aren't helping them internalize the change, the desires, the understanding within themselves as to why they should do good things, then you are missing the point, and so are they.  The Christian Parenting Handbook teaches you how to not only manage your children's behavior, but how to help them change their hearts, which will in turn help them change into wonderful, mature adults over time.  And isn't that what we all really want?  It teaches parents how to help our children develop character, not just obedience.
Each chapter in the book deals with a specific parenting issue or explains the differences between things like punishment and discipline.  There are 50 chapters, all of which are very short.  They often include some stories and examples to help you understand what is being taught.
I liked that The Christian Parenting Handbook was fairly open-ended and non-judgmental.  It gave you guidelines and tools and things to think about, but left it up to you to implement it as you would see fit in your own home.  In fact, they even devoted a chapter to the controversial issue of spanking, and again, gave some suggestions on how to implement spanking if it is something you choose to do, but definitely not something that you have to do.  I really appreciated the open-ended philosophy because parents always know their kids best and what will and won't work with them.
The book also talked heavily about relationship.  It emphasized how we should take advantage of teaching moments, including in moments when we are correcting our children.  But, also that we should show grace, mercy, and love to our children, but not to the extent that we stop parenting (and start being BFFs).  It also talked much about being creative with our disciplines, coming up with alternatives, and even at times letting our children pick their own consequences. I really liked the suggestion of having your children act out the "right way" of doing something that they just did wrong.  I've had my girls do that, and it really helps!
Some things I didn't like about the book are more a matter of preference: I prefer a different translation of the Bible than they used (I prefer KJV) and wish it had more examples or worksheet questions to help you implement change in your self/parenting habits.  I also think it could be helpful to divide the principles taught into age groups, or how to implement them with different ages.
Overall, this book is a great resource for parents and I recommend it, whether Christian or not!  Everyone believes in developing good character qualities in our children and this book helps us as parents know how to do that!Stay tuned this week as I will be hosting my own giveaway of this book, as well as telling you how you can enter other giveaways and join in on some events in regards to this book!  Seriously some great deals this week as it's their launch week!